While many people view St. Patrick's Day as an excuse to wear green and overdrink, the holiday has stronger religious overtones in the U.S., which is a strongly Catholic country.
The US Census says about 32.6 million U.S. residents claimed Irish ancestry in 2017. This is more than six times the population of Ireland (5.1 million). It's more of a secular event, and a party in the United States, and plenty of non-Catholics join in.
If you are looking for ways to express your love of the Irish without the involvement of alcohol, try these festive activities:
Plan a scavenger hunt
Trade in eggs for chocolate gold coins and wa-la! You've planned a St. Patty's Day hunt. Include clues on the hidden coins with trivia topics of your choice, the person with the most coins, and correct answers wins. Or you could always include hints on where they can find the rainbow and pot of gold and whoever finds that first wins. Get creative.
Experiment with green dye or make traditional Irish foods
What's an easy way to start off the day with St. Patty's Day spirit? Lucky Charms of course! I kid, I kid… although not really. If you are looking for an event more festive breakfast, try green eggs and pancakes! Just grab some green dye at your local grocery store and get cracking. Other dyeing ideas include Irish Hills Cupcakes, deviled eggs, and even popcorn.
Looking for a little less green and a little more Irish? If you are feeling adventurous and want to do more than grab your McDonald's Shamrock Shake, then you can attempt an Irish stew, shepherd's pie,  key lime poke cake or a green velvet cake for dessert.
Watch a parade
St. Patrick's Day parades are held in major cities every year. Parades typically include live music, step dancing, floats, and active involvement of local Irish associations and organizations. Attending a parade is a great family-time activity that all ages would enjoy.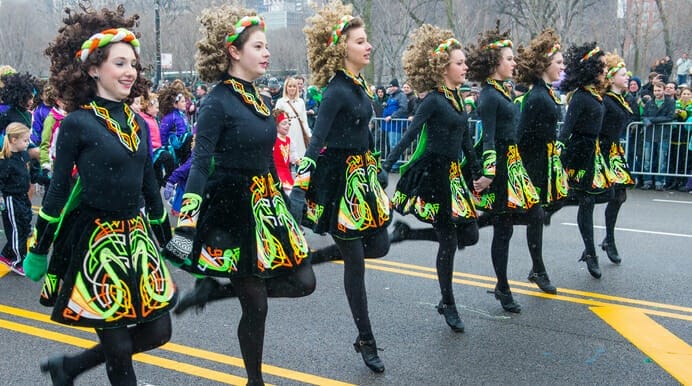 Stream an Irish-themed movie (see full list)
The Irish Pub

– Alex Fegan's documentary, in which he travels the Emerald Isle's dwindling but passionate contingent of family owned and run pubs, exploring the ways that these convivial community watering holes shape and were shaped by the Irish spirit.

Ondine

– Syracuse, a luckless father and fisherman, struggles against poverty and addiction to give his ailing daughter Annie a good life. Colin Farrell stars in this mystifying fantasy-drama that blurs the line between myth and reality.

The Departed

– An undercover cop (Leonardo DiCaprio) searches for the mole in his police department while engaged with the Irish mafia. Meanwhile, a mobster (Matt Damon) joins up with the police force to relay information back to his bosses.

The Magdalene Sisters

– Four young women are rejected by their families for what were deemed unconscionable actions in early 1960's Ireland, and condemned to an asylum known as The Magdalene Laundries. Based on true events in the real-life asylum, we follow these women through their absolute heartache and plots of escape.

Bloody Sunday

– On January 30, 1972, an altercation between a group of civil rights protestors in Derry, Northern Ireland and British army troops left 13 marchers dead in what would become one of the most contentious cases in modern Irish history. In his 2002 film, director Paul Greengrass explores that day through the eye of civil rights leader Ivan Cooper and the events that led the British soldier into a massacre of civilians.
Attend mass
The holiday of St. Patrick's Day started by celebrating a saint. Many Irish go to church or pray the prayer of St. Patrick. Catholic churches host dinners and family-friendly festivals this weekend.
Whether you're just not feeling the booze that day or you can't be hungover for the next, these actives will still make you feel festive enough to say, "kiss me, I'm Irish!"