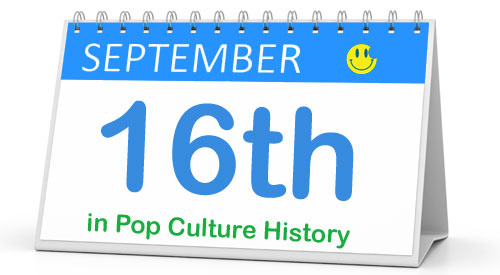 September 1 in Pop Culture History
1271 – COMPLETE – The papal election from November 1268 to September 1, 1271, following the death of Pope Clement IV, lasted 3 years and ended with the election of Teobaldo Visconti as Pope Gregory X.
1651 – Robinson Crusoe, a fictional character, began on his first sea voyage, from Hull to London.
1661 – In the first official well-known Yacht Race, England's King Charles lost to his brother, James.
1752 – "Proclaim LIBERTY throughout all the land unto all the inhabitants thereof" The Liberty Bell was officially placed in the Pennsylvania State House (now Independence Hall) in Philadelphia.
1799 – The Bank of Manhattan Company (now Chase Manhattan) opened in New York City.
1859 – The Carrington Event, a large solar flare (a coronal mass ejection – CME, solar superstorm) effected many of the (relatively few) electronics and telegraph lines on Earth.
1872 – Linda Ann Judson Richards graduated from the Training School of the New England Hospital for Women and Children and became America's first Nurse.
1894 – Juno, one of the four largest asteroids in the Main Belt, was discovered by the German astronomer Karl Ludwig Harding.
1894 – Great Hinckley Fire, Minnesota
1897 – Boston's Tremont Street Subway opened.
1902 – A Trip to the Moon, considered one of the first science fiction films, was released in France.
1923 (Volcano Eruption & Earthquake) Kanto, Japan
1935 – Labor Day Hurricane, Florida
1939 – Adolf Hitler signed an order to begin the systematic euthanasia of mentally ill and disabled people.
1939 – World War II began with Germany's invasion of Poland.
1948 – The United Nation's World Health Organization was founded.
1952 – The Old Man and the Sea, the Pulitzer Prize-winning novel by Ernest Hemingway, was first published.
1962 – #1 Hit September 1, 1962 – September 14, 1962: Tommy Roe – Sheila
1968 – Irvin Feld opened the Clown College, in Venice, Florida.
1969 – Muammar el-Qaddafi overthrew King Idris, and founded the Libyan Arab Republic.
1972 – Bobby Fischer defeated Boris Spassky of the USSR. He was the first American to compete in the tournament.
1972 – Mark Spitz won his 4th and 5th Olympic Medals (he won 7 in total in the '72 Olympics)
1977 – The first TRS-80 Model I computer was sold at Radio Shack.1978 – Battle of the Planets premiered in syndication.
1979 – An LA Court ordered Clayton Moore to stop wearing Lone Ranger mask. The copyright owners did not want any association with him, although he used his fame as the Television face as the Lone Ranger as a positive example of what the Ranger (and Tonto) represented. He began wearing wrap-around shades instead.
1979 – Pioneer 2 flew past Saturn discovering an eleventh moon and two new rings.
1982 – The United States Air Force Space Command was founded.
1983 – Korean Airlines Boeing 747, flight 007 was shot down by Soviets in Russian airspace.
1984 – #1 Hit September 1, 1984 – September 21, 1984: Tina Turner – What's Love Got to Do with It
1985 – The remains of the Titanic, sunk by an iceberg in 1912, were discovered in the North Atlantic.
1986 – CBS Evening News anchorman Dan Rather initiated the use of the word "Courage" as a slogan at the end of his broadcast. He stopped about a week later.
1990 – #1 Hit September 1, 1990 – September 7, 1990: Sweet Sensation – If Wishes Came True
1991- E! News had it's first live broadcast
1994- The Independent Film Channel made its debut
1997 – Disney Channel ended their 14 year run of being a subscription TV channel. and became a basic cable 'free' channel..
2004 – Beslan School Massacre in Southwestern Russia began on September 1st, 2004. Over 360 hostages, including 186 children, were killed by Islamic insurgents or Russian military personnel during the 4 day seige.
2012 – #1 Hit September 1, 2012 – September 28, 2012: Taylor Swift – We Are Never Ever Getting Back Together