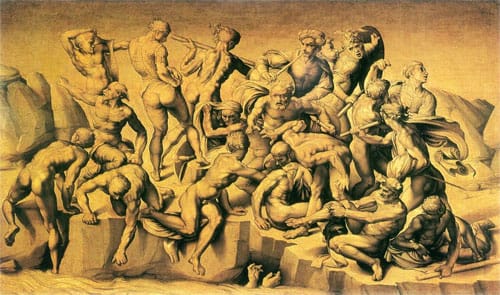 The Battle of Cascina by Michelangelo
Aristotele da Sangallo's drawing of Michelangelo's work is all that remains of 'The Battle of Cascina' (fought on July 28, 1364 between the troops of Florence and Pisa) and was a planned paired painting with 'The Battle of Anghiari' (fought on June 29, 1440 against Milan, painted in 1505) which is known as "The Lost Leonardo", by Leonardo da Vinci, which has also been lost to time. Florence won both battles, but is believed that neither was completed by the artists.
Michelangelo wrote over three hundred poems, sonnets and madrigals.
'Poem' by: Michelangelo Buonarroti
Ravished by all that to the eyes is fair
Yet hungry for the joys that truly bless,
My soul can find no stair
To mount to heaven, save earth's loveliness.
For from the stars above
Descends a glorious light
That lifts our longing to their highest height
And bears the name of love.
Nor is there aught can move
A gentle heart, or purge or make it wise,
But beauty and the starlight of her eyes.